The smallest package for great satisfaction
How can Travelio LIGHT help you?
Travelio Light is a simplified version of the application. It is directed at resellers and consists of a billing software integrated with a client management system. It can be upgrated to Travelio ERP at any time if the agency diversifies its activity.
What does the system contain?
Bookings can be printed. They can be reimbursed or their status can be changed.
Graphical and numeric reports for receipts, invoices, billing, booking and profit.
Automatically generates contracts, invoices and pro forma invoices.
The CRM lets you manage contact information, billing and payment situation.
The CRM lets you manage contact information, orders' value, customer lifetime value.
Who can use Travelio LIGHT?
The Travelio Light is the perfect choice for resellers who want to better manage their clients, suppliers and booking. Furthermore, it comes with an integrated primary accounting module, easy to use and customizable. Travelio Light can also be used by tour operators, since it is 100% customizable and can be adapted to their needs. For further questions or a full presentation of the Travelio Light system, please contact us now!
How much does it cost?
The prices for the Travelio Light system start from 25 EUR + VAT / month. There's no time limit stipulated in the contract. The installation charge is 400 EUR + VAT, payable at the time of contract signing.
Since we talk about solutions that we customize for each client, the price can vary depending on the modules that you choose and the changes applied to the basic system.
What do I get for the money?
Software license for an undetermined period of time.
8 hours of training sessions for your employees, split in maximum 4 distinct sessions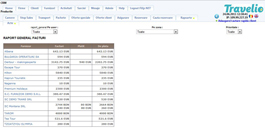 How can I test the application?
You don't have to install any program, you don't have to download anyting and you don't need a CD! You can access the Travelio demo account for free at the following address:
www.travelio.ro/demoerp/ - for Travelio ERP www.travelio.ro/light/- for Travelio Light
All you have to do is to click on the address and fill in the user admin and the password demo.
*The system is 100% working, but the filled in data are reset every other hour.