Travelio ERP is the complete solution for your travel agency
Travelio ERP is a management software for tour-operators. The production module allows you to manage a wide range of travel services:
Individual accomodation (On request, Allotment, Guarantees),
Transportation (coaches and charters),
Insurance policies,
Travel packages,
Special offers.

The Travelio ERP system can be accessed from anywhere through the online module (towards resellers) and through XML (towards web sites, that is end customers). Through the external suppliers module, an online connection can be implemented with any tour-operator that offers such links.
What does the system contain?
This module allows you to export all data in XML format so that they can be integrated by any web site. You can also use an e-payment system with immediate booking confirmation.
The CRM lets you manage contact information, orders' value, customer lifetime value.
Graphical and numeric reports for receipts, invoices, billing, booking and profit.
Who can use Travelio ERP?
The system is intended for agencies that sell their own services (tour-operators), but can be installed for resellers as well. The application ca be fully customized and adapted to your needs.
For any questions or for a full presentation of the Travelio ERP system, contact us now!!
How much does it cost?
The prices for the Travelio ERP system start from 50 EUR + VAT / user/ month. This is the prices for internal users (i. e.: managers, accountants, travel agents). External users (partner agencies /suppliers) have free access. There's no time limit stipulated in the contract. The installation charge is 800 EUR + VAT, payable at the time of contract signing.
In order to arrange an appointment for us to show you the different license types or a customized offer, don't hesitate to contact us!
What do I get for the money?
Software license for an undetermined period of time.
8 hours of training sessions for your employees, split in maximum 4 distinct sessions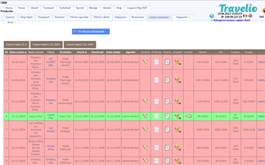 How can I test the application?
You don't have to install any program, you don't have to download anyting and you don't need a CD! You can access the Travelio demo account for free at the following address:
www.travelio.ro/demoerp/ - for Travelio ERP www.travelio.ro/light/- for Travelio Light
All you have to do is to click on the address and fill in the user admin and the password demo.
*The system is 100% working, but the filled in data are reset every other hour.